From New Jersey, an author reaches out to WMS
Ann Rinaldi donates 40 copies of "The Secret of Sarah Revere"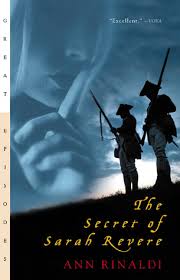 Advertisement
Hang on for a minute...we're trying to find some more stories you might like.
     When Ann Rinaldi learned of the tragic events surrounding the Boston Marathon, she knew she had to do something to help.
     Mrs. Rinaldi is the author of 48 young adult novels including "The Quilt" trilogy, "Wolf By The Ears," "In My Father's House," and "The Last Silk Dress." Mrs. Rinaldi mostly writes historical fiction, and for each story she writes, she travels to the site where the event occurred.
     "I build around real historical people and fill in the situation with fiction," said Mrs. Rinaldi. "I don't go against history because I respect it too much."
     Mrs. Rinaldi, 78, was so moved by the Marathon bombings and manhunt that she sent 40 copies of "The Secret of Sarah Revere" to Watertown Middle School.
     The story takes place around Watertown and Boston during the start of the Revolutionary War. The story is about Paul Revere's daughter, Sarah, and how she tries to figure out her father's secret about the war.
     "I traveled around Boston, and even went to Paul Revere's house to gather information for my book," Mrs. Rinaldi said during a telephone interview with the Watertown Splash.
     She said she felt terrible and was shocked by the tragic events that occurred in Boston. She said everyone she knew wanted to help out anyway that they could. She said she thought that students might find learning about something that happened near them more appealing.
     "By sending these books, I felt like I was doing something to help out the children of Watertown," Mrs. Rinaldi said.
–June 17, 2013–