Farewell to Dallas, a service dog's service dog
Chris Cotreau pays tribute to his friend, who died this week at 13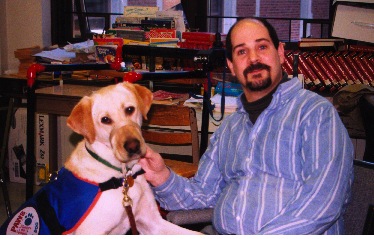 Advertisement
Dallas was born April 23, 2001, in Iowa and trained in Chicago to be a PAWS WITH A CAUSE dog. Originally I was supposed to get a golden retriever named Leo. As I waited excitedly for my new dog, I was informed that Leo did not pass the strict testing and would not be coming, but they had another ready to train and his name was Dallas.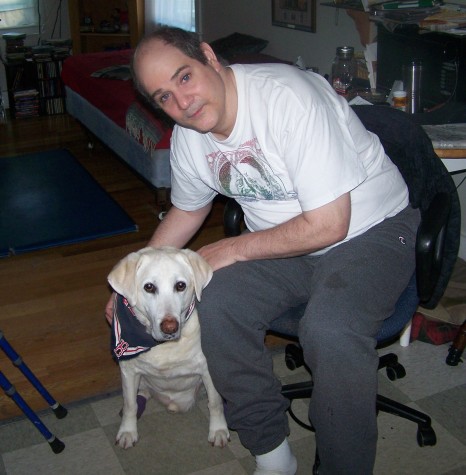 I was so disappointed about not receiving Leo, I thanked her and told her to call me when he was ready. I received Dallas on April 23, 2003, and was amazed at how smart this dog was. He would look me right in the eye, slightly turn his head and appear to understand every word I was saying. This dog actually looked the part of a service dog. His trainer called him, "A service dog's service dog, the head of his class."
When working, he was all business. Either sitting by my side quietly when on duty or helping at home. His favorite command was opening the fridge and getting me a drink, then running back and slamming the door shut. Every night he did this with the same gusto and enthusiasm.
When off duty, he was quite a different dog. His friendly smile and calm demeanor helped him charm children (and quite a few school secretaries) for over a decade. He liked to play, but he LOVED food. Dallas never forgot a hand that fed him, and made sure that they knew it every time he saw them, sitting on command, then giving his paw to be rewarded. He enjoyed coming to work at the Watertown Middle School and Lowell Elementary. What dog wouldn't? He spent time with students from kindergarten thru eighth grade all day.
When Dallas was off leash in a classroom I was assigned to, he would routinely walk up and down the aisle of each row of desks. I would always be amused at how each student would reach out for a quick pat as he passed them. That small gesture of affection showed how he had become a fabric of where we worked. It was normal to see him in school.
At the Lowell Elementary school he would lay on his matt and kindergarteners would sit with him and just pet him and talk with him. That matt was at the entrance of the afterschool program I worked at and Dallas greeted every parent picking up a child, and when that child left, they would pat Dallas on the head as they left.
The best quality about Dallas was just about everyone he ever met he made smile. He made people genuinely happy. People would tell me, "I do not like dogs, but I like this dog." He befriended beer vendors at the Boston Garden and waitresses at Fenway Park who looked forward to seeing him working and reward him with a biscuit and water. Always impressed with how he calmly stayed next to me in the crowds. Dallas was his own personality.
Time moves faster for dogs and eventually the Red Sox, Celtic, Bruin, and Patriot  games, including champion parades and the many other events he accompanied me to took its toll on his body. I first noticed his limp when he got back from a walk. Yet when it was time to go out, he wanted to work, to be with me. He was now 9 and it was time to retire.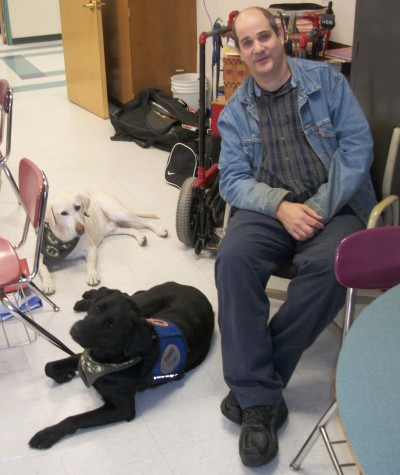 When Tanner, his replacement came, the two instantly bonded. Dallas, not quite ready not retire made it very difficult to train Tanner because he would do all the commands before Tanner had a chance to start them. I would send Dallas out to a friends to give Tanner private time with me to train him. Dallas had a deserved retirement. He completely accepted it and enjoyed its privileges. Whether it was sneaking down to the office for a treat or just lounging on a bed in the corner as class went on. Now that Tanner was to accompany me to the ballgames, Dallas would spend those evenings at Grandma's, no doubt being spoiled rotten.
I once heard a quote, "It is not the length of your life that is important, but how you spent it." If that is true then Dallas spent seven years as a service dog, four years as a therapy dog in two schools, certified hospice volunteer, frequent visitor to the VNA nursing home where Dallas and Tanner delighted the residents. Many weddings, and vacations. Through his calendar, Dallas helped raise thousands of dollars over the years to help train new PAWS WITH A CAUSE dogs.
As Dallas really progressed in age and his ability to walk diminished, I returned all the dedication he had given me right back to him. The special birthday party, all the students, parents and friends from his past who came back to visit and say good bye with scratches and hugs to make him happy one more time. Our very slow walks Saturday mornings were special times and happily shared together. We took it one day at a time and each one I was happy with him.
At the end, on some mornings when leaving to go to work, I would think, "I wonder if this morning is it?" and Dallas would slowly rise and dutifully wait to go to work. To go to the routine and place he loved so much. When that day actually came, I was there by his side as dedicated to him as he was to me.
Goodbye Lickey Lou. Thank you for making me a better person.
–May 21, 2014–