Warm your heart by helping Coats for Kids
Annual WMS coat drive looking for donations until Jan. 11
Advertisement
Hang on for a minute...we're trying to find some more stories you might like.
    "My favorite part is knowing that we helped a lot of people," says Eleanor Donato, a sixth-grade teacher at Watertown Middle School and the head of the school's annual Coats for Kids drive.
    Coats for Kids is an organization that donates coats to people who can't afford one themselves. It is run by Anton's Cleaners and is in its 19th year. Watertown Middle School students and teachers have been participating since 2003.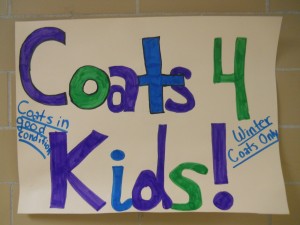 The eighth-grade leadership class has been helping Mrs. Donato by bagging and counting the coats. The students also help out by packing the coats into Mrs. Donato's car so she can bring them to Anton's Cleaners.
    The school collects new or gently used winter coats. The goal is for each school member to bring in at least one coat.
    Even if you're not a member of the Watertown Middle School, you can still help out by bringing in a coat and putting it in the boxes outside the main office.
    You have until Jan. 11 to bring in all of your winter coats. Keep an eye out for coat sales or check your closets and help a good cause this winter!
  (For information about Coats for Kids, go to http://antons.com/cfk/.)
–Jan. 1, 2014–