Watertown Middle School kicks off annual Pennies for Patients drive
Rummage Sale, Walk-a-lap-athon, Family Skate Night among some of fund-raising events this month
Abigail Hendrick, Adrina D'Arrigo, Amelia Sarmiento, Casey Williams, Davit Karapetyan, Isabela Guimaraes, Jade Baker, Laura Howard, Serena Calix, and Shannon Fitzpatrick
March 1, 2019
The annual Pennies for Patients drive at Watertown Middle School began with an all-school assembly Friday, March 1. The fund-raiser lasts the entire month of March and involves students, faculty, and staff.
Pennies for Patients raises awareness for the Leukemia & Lymphoma Society and helps fight blood cancers by raising money through different events.
According to eighth-grade humanities teacher Laura Shock, "There used to be small, easy events [that raised money], but now there are bigger events that are organized."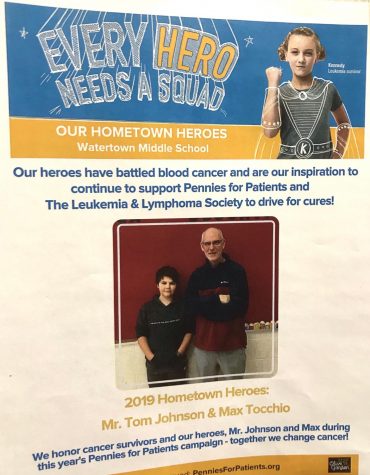 One of the big events is Skate Night on Thursday, March 7, from 6-8 p.m. It is a family event, so siblings and parents are encouraged to come. There will hot cocoa, baked, goods chips, and other snacks. The event is held at John A. Ryan Arena, which donates the rink and skates for the night.
According to seventh-grade humanities teacher Ellen Fitanides, who organizes the event, Skate Night raises around $1,000 each year for P4P.
Another event is the Basketball Rematch between the eighth-graders and the WMS faculty — but you pay to get in this time. There will also be bake sales and raffles for gift cards The game will be held Thursday, March 21, from 6-8 p.,m. at the WMS gym.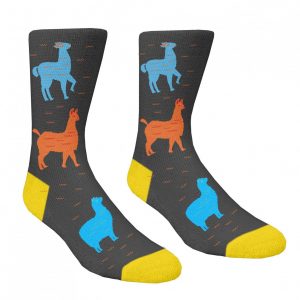 The Rummage Sale will be held Saturday, March 9, from 10 a.m.-2 p.m. Sixth-grade science teacher Margaret Ferguson Maltzman took over as organizer last year.
She said she does this event because it brings the community together, recycles products, and gives kids a chance to be responsible.
"I loved going to rummage sales," she said. "It was a fun way to pass the time."
The Walk-a-lap-athon is scheduled for Tuesday, March 26, and it raises at least $5,000 every year. WMS teacher Aine Dirrane said about 60 people normally attend, but she hopes for more students to join this year.
There are some events just for students and WMS staff, including the Dodgeball Game and the dance.
"We raise $2,000 and all the money goes to the LLS," said Ms. Shock, who organizes the dances.
The volunteers donate their salary from the dance to the cause.
"Look out for Shocky Poo's smores desserts," she said.
During the month will be Coin Challenges. The classes run by Dan Skop and Brian Donato usually raise the most money from the Coin Challenge. Collecting coins used to be the main event for P4P.
The Leukemia & Lymphoma Society is special to Watertown Middle School as blood cancer has affected former students and teachers, as well as longtime gym teacher Tom Johnson, who beat blood cancer in 1998, and sixth-grader Max Tocchio, who beat it two years ago.
At the assembly in the auditorium, assistant principal Jason Del Porto said that over the years the school has raised almost $400,000.
"This school has the energy to break national records on a regular basis," he said.
Six WMS students from the Leadership Team got on the stage. They said the school raised $32,543 last year, and then show a short video they made about the events.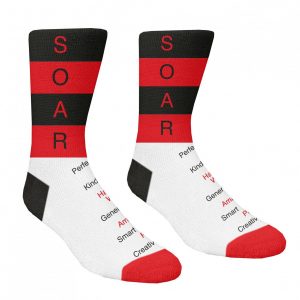 Jake Teitelbaum from Resilience Gives told a story about how when he was a student at Wake Forest University a few years ago and got sick. When he was at the hospital for treatment, he would be given a johnny and hospital socks — which he hated, so he started wearing his own socks. Afterward, he started Resilience Gives, so that families could design socks to wear and to be sold. The money raised then goes to organizations like LLS.
A sock design contest was held at WMS in the winter and the winners were Qian Yi Titterington, Nabila Khan, and Chris Hardy. Their socks are available for purchase through Resilience Gives and the proceeds are going to P4P.
Casey Kavanagh from the Leukemia & Lymphoma Society told the audience that about 1,000 schools that participate in P4P, and that WMS is the top school in Massachusetts, Maine, New Hampshire, and Rhode Island.
She said she had leukemia when she was 19 years old, before she even worked for LLS. She had some advice for students who might get tired over the month of fund-raising.
"Always remember the people you are helping," she said.
(For more information or to donate to Pennies for Patients, contact Christ McDermott at [email protected].)
–March 1, 2019–