Serving the school with a smile — and a wag
Chris Cotreau and his service dogs make Watertown Middle School a special place
Chris Cotreau is one of many important and special people at Watertown Middle School. Chances are you've probably seen a man in a wheelchair rolling around the hallways with a service dog obediently following wherever the wheelchair is to go.
That's Mr. Coutreau.
Mr. Cotreau loves working at schools. When he first started in 1994, he began as a student teacher. But in 1997 he started subbing. Mr. Cotreau has also worked in the afterschool program for the Lowell. His favorite subject to teach is math, which was also his favorite subject as a student. And one thing very incredible is that his whole teaching career is in Watertown.
Mr. Cotreau has mostly taught fifth grade, he prefers to teach groups of students in middle school or younger because he always gets a good laugh.
Mr. Cotreau lives in Arlington, where he grew up. His mother is from Italy and his father is from Nova Scotia. For his education, Mr. Cotreau went to two colleges. He first went to Fitchburg State for shop teaching and, after he graduated, he went to Lesley College for early education.
Some of you might be wondering, "Why does Mr. Cotreau use a wheelchair?"
You see, in 1992, Mr. Cotreau broke his neck while diving into a pool. He started getting service dogs in 2003. Mr. Cotreau only lives with Tippy, his current service dog. Mr. Cotreau says that it is a very long process to get a service dog. When someone asks for a service dog, you have to go through a very strict screening.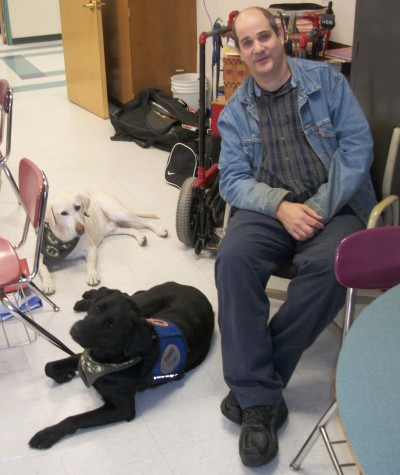 To train the dogs, Mr. Cotreau had to put cameras all around his home so the people at Paws for a Cause could make a model for the dog to become familiar with. Tippy gets along with everyone very well, especially with the students. That's one of the things that Mr. Cotreau really loves about Tippy.
The dogs are also very helpful at home. They help out with his everyday activities, like picking up the phone for him whenever it rings. Tippy can fetch things for Mr. Cotreau when he can't grab them, and he can also open the fridge. Tippy will be 4 years old this summer.
Mr. Cotreau said he has always been a dog person, but he does prefer bigger dogs than little dogs. His first service dog was Dallas. Mr. Cotreau had Dallas from 2003 to 2014.
Once when they were on the elevator, in 2003 or 2004, and Dallas followed someone else out, but that wasn't the floor they were supposed to be on. The elevator continued up to the next floor and Dallas was almost getting hanged until his leash ripped apart. Dallas safely landed on the floor. After this, Dallas never got off the elevator first.
Mr. Cotreau goes a lot of places with his dogs. His dogs, including Tippy, the one he has now, have been to the NBA finals, the World Series, and around the world. After Dallas, he got another service dog and named him Tanner. But Tanner recently died with cancer last May.
Mr. Cotreau likes to go to concerts,and, in fact, he takes his dogs to concerts. His favorite bands are The Grateful Dead and U2. But he isn't very picky about songs. He will listen to anything.
Growing up, Mr. Cotreau's favorite show was "Cheers", his favorite movie is "Pulp Fiction", and his favorite book is "To Kill a Mockingbird." His favorite ice cream flavor is mocha almond, and his favorite food is turkey, since you can eat the whole thing and nothing ends up going to waste.
Mr. Cotreau loves to collect comic books. He said he has more than 14,000 comic books, and he made a computer program to keep track of them. Mr. Cotreau's favorite superhero is Spider-man, and the power he would want to have is to fly.
"With great power comes great responsibility," said Mr. Cotreau. "To be a teacher is a very powerful thing, and it's also an important responsibility. You are in charge of a classroom of children and their education."
It's amazing to have a helpful teacher like Mr. Cotreau around. Without Mr. Cotreau, just imagine having days where we have no one to substitute for the class, and we wouldn't even have service dogs roaming around the school.
–Feb. 7, 2019–