Trip brings teacher face to face with history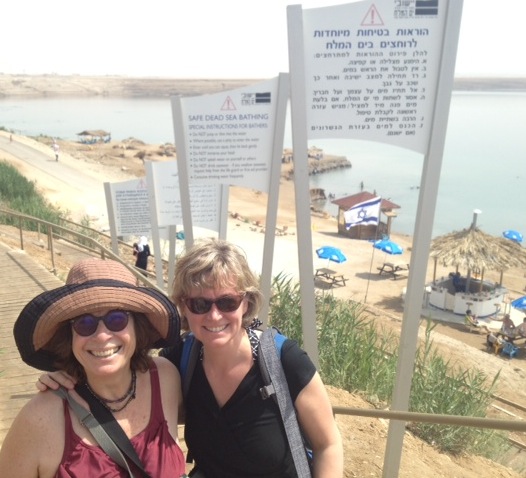 "I often thought about traveling to Israel and Palestine, but I never thought that one day I would actually go," said Kerri Lorigan, the Cluster 4 humanities teacher, after coming back to Watertown Middle School after her recent trip.
Out of the blue, Mrs. Lorigan's mother-in-law asked if she would like to go to Israel and Palestine with her. Before she made her final decision, she thought about her kids, her students, and the teachers.
"Who would be the substitute?" "Who would take care of my kids?" "Should I bring my sons with me?" "Was it safe?" Those were some of the questions whirling through her mind.
Mrs. Lorigan talked with WMS principal Kimo Carter and Watertown superintendent of schools, Dr. Jean Fitzgerald.
"They were extremely supportive," she said.
They thought she would come back with so many new things to talk about in class and pictures to show the school, and they were right.
"The trip was utterly amazing and honestly, wonderfully mind-blowing!" she said.
Mrs. Lorigan traveled with a group from J Street, which calls itself "the political home for pro-Israel, pro-peace Americans," and that Mrs. Lorigan says supports a two-state solution.
The group organized many events, and Mrs. Lorigan met many interesting people and leaders, including Israeli president Shimon Peres and then Palestinian prime minister Salam Fayyad on the same day!
She visited lots of communities in Israel and Palestine. Mrs. Lorigan said the Palestinian situation is hard to explain, especially to her students, as they are living in an occupied land.
"There was military everywhere we looked, since opposite nations can't cross the border," she said.
Mrs. Lorigan stayed at hotels and took lots of buses and taxis to her destinations.
She said that the food was absolutely amazing, with series of salads served with each meal. She says that the fruits and veggies were super fresh and delicious. Although some foods were very different and not as appetizing, Mrs. Lorigan took smaller portions, trying to be respectful. But she also came upon many tasty dishes like a bagel-type bread, baklava, and many more.
With all of the interesting people, the history, and the sights, Mrs. Lorigan had an amazing trip!
–WMS–