Sweet taste of victory: Red Velvet Cupcakes from Yum Bunnies win Splash of Flavor 2013
The votes are in! The Red Velvet Cupcakes from Yum Bunnies won over the voters in the 2013 Splash of Flavor competition.
The Belmont bakery joins the Coffee Coolatta from Dunkin' Donuts on Main Street in Watertown (2012) and the Chicken Parmesan from The Talk in Watertown (2011) as winners in the annual contest organized by the Watertown Splash, the official newspaper of Watertown Middle School.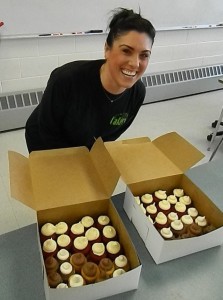 Yum Bunnies is run by Jessa Sahakian, a WMS graduate. Her mother, Beth, works in the Watertown School's main office and helps Jessa in the bakery on Saturdays.
"I'm really excited about this!" said Jessa, when told about being the top vote-getter. "I know I was going against some heavy hitters and great restaurants."
Jessa went to Watertown High and Johnson & Wales University. The bakery has been open for six years.
"I'm not going to lie to you: running a bakery is really hard work,"  she said.  "There are good times and bad times. … But if you do what you love, then it's all worth it.
"I always have had a really sweet tooth. Growing up, I just wanted to eat dessert all the time, so I found a job where I could do that!"
Although her red velvet cupcakes won the top prize, she said they are not her favorite.
"I'm a vanilla-vanilla girl," she said. "But everyone's favorite is red velvet."
And that was proven in Splash of Flavor 2013! Congratulations!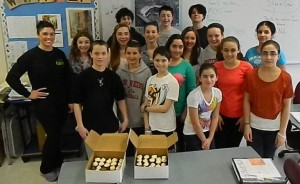 To read reviews of all 20 of this year's Splash of Flavor finalists, go to .
Here are the reviews of the three dishes with the most votes:
WINNER! Red Velvet Cupcakes at Yum Bunnies
Have you ever had a Red Velvet cupcake that made you want to go and get another? Well you can have one like this at Yum Bunnies Cakery in Belmont. When you walk into this small-town bakery you see vibrant green walls with pink accents. Let's just say it's a very colorful atmosphere!
Jessa, the owner of Yum Bunnies, started baking when she was just a middle-school student.
"I used to take baking classes at Party Needs," she said. "I was the only kid there!"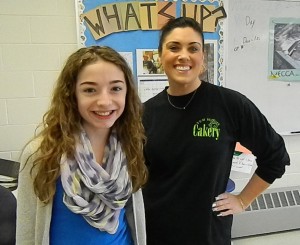 Knowing that she wanted to be a baker, Jessa graduated from Johnson & Wales University. You might have heard of Yum Bunnies from "Cupcake Wars" on the Food Network. Jessa was featured on the Space episode, but unfortunately she was voted out first. Still, she says her experience was fun, but lots of hard work
Some of Yum Bunnies' cakes have been shown on hit movies like "Ghosts of Girlfriends Past," "Zookeeper," "Pink Panther 2," and "What's Your Number?"
As the most popular cupcake flavor, Red Velvet has a most moist, rich taste to it with a sweet cream-cheese frosting swirled onto the top. The cupcake is cooked just right and the perfect size.
Some people don't like chocolate cupcakes — which is basically what a red velvet cupcake is — but Yum Bunnies' play on the Red Velvet cupcake tastes perfect with a unique flavor, almost like vanilla and chocolate mixed, mmmmmm…..
The cream-cheese frosting is nothing like the cheap supermarket kind. It's creamy, sweet, and has just the right amount of cream-cheesy flavor!
Yum Bunnies' Red Velvet cupcake is truly remarkable.
(Yum Bunnies, 241 Belmont St., Belmont, 617-484-3300, www.yumbunnies.com )
— By CHRISTINA B.
SECOND PLACE: Strawberry-Banana Smoothie at Moozy's Ice Cream
By now, many people know about the great new ice cream spot that took the place of Brigham's at the corner of Belmont Street and Trapelo Road in Belmont. It's Moozy's Ice Cream and Yogurt Emporium.
It's hard to miss it. Moozy's has a bright, fun atmosphere that's visible from the outside, through its top-to-bottom windows that meet at the corner. Once inside, you notice the cool design in both the setup and color scheme. Moozy's is very roomy, with a lot of different types of seating, such as booths, stools, and chairs. There is also outdoor seating to be enjoyed in good weather, which is just around the corner.
The colors in Moozy's are fun, with a bright green and orange that remind you of lime and orange sherbet. Even the menu boards are colorful and make all the items look appealing. Moozy's is also incredibly clean from ceiling to floor.
If you have been to Moozy's, then you know how awesome its ice cream is. But do you know that Moozy's also has delicious smoothies? There are five flavors, and my favorite is the strawberry-banana smoothie. It is made with fresh cut-up strawberries and bananas, milk, ice, syrup, and Moozy's original tart yogurt. It is so flavorful, creamy, and smooth, and it's a yummy and more healthful alternative to ice cream or a frappe. Though it is a bit pricey at $6.37, including tax, it's a little bigger and a whole lot better tasting than other smoothies I've had in the area.
It is open Sunday through Thursday, 11 a.m. to 9 p.m., Friday and Saturday 11 a.m. to 10 p.m. In the summer, it is open to 10 p.m. daily.
So check out Moozy's. Look for the cow logo, and head on over for the best strawberry-banana smoothie!
(Moozy's Ice Cream and Yogurt Emporium, 2 Trapelo Rd., Belmont, 617-484-4445, www.moozysicecream.com )
— By CATHERINE P.
THIRD PLACE: Red Velvet Frozen Yogurt at Orange Leaf
Walking into the smell of frozen yogurt, chocolate, sweet candy, and fresh fruit. Looking around and seeing the broad, neon colors of the froyo store. A must go-to place is Orange Leaf Frozen Yogurt in Lexington.
Orange Leaf, simply put, is America's frozen yogurt.
At this amazing froyo (froyo means frozen yogurt) place, there are about 70 rich, creamy flavors. And then there is the toppings bar, a place where you become the master of your dessert. From ripe fruits and nuts to cookie dough bits and hot fudge, the possibilities are endless!
One of the main reasons why people go to Orange Leaf is because it provides a delicious, yet healthy, dessert that will definitely satisfy your taste buds. There are many different flavors at Orange Leaf. Some froyo flavors that pop out are Red Velvet, Wedding Cake, Brownie Batter, Snickerdoodle, Coffee, Peanut Butter, and the limited-edition flavor, Chocolate Raspberry. If you have a sweet tooth, you will definitely enjoy these creamy, rich flavors. But, if you have to choose one, a must-have flavor would be the Red Velvet, topped with chocolate chips, Reese's, and chocolate syrup.
You cannot walk out of this amazing froyo store without having this delightful dessert. This explosive flavor tastes just like a moist, fresh Red Velvet cupcake with creamy, rich cream cheese frosting, only in frozen yogurt form. Once this froyo hits your taste buds, they will throw a huge party! You will even hear them blasting music and cheering after consuming a Red Velvet froyo. Somehow your eyes close and chills take over your body … Suddenly the words "mmmmmm that's amazing!" slip out of your mouth.
Here are the additional flavors that you might enjoy on your trip to Orange Leaf: To all those chocolate lovers out there, you must try Brownie Batter and Chocolate Raspberry. Brownie Batter explodes with creamy, chocolaty flavor. Chocolate Raspberry is shocking. On each spoonful of this delicious froyo flavor, your taste buds first get a rich kick of chocolate, and then it transforms into a sharp, out-of-the-blue, fresh taste of raspberry! Your taste buds will be dancing with joy. Hurry before it disappears!
Snickerdoodle, Peanut Butter, and Coffee are the definition of perfect. Do you love snickerdoodles? This amazing flavor will start off tasting like sweet sugar, and then your taste buds receive a rush of cinnamon. It is pure joy in your mouth.
Bored of getting regular coffee every morning before going to work? How about turning it around and eating coffee-flavored ice cream? This delicious flavor is very creamy and the taste of espresso sinks into your tongue. It is by far much better than getting an average old coffee to get you through your day.
Then there's the amazing Peanut Butter froyo. This tasteful flavor spreads through your mouth really quickly, not missing one taste bud. After consuming this flavor, your jaw will drop and somehow the word "Wow" is released out of your mouth.
Now onto some amazing toppings that will complete your froyo. Chocolate chips, crushed-up Reese's, Junior Mints, chocolate fudge, caramel syrup, peanut butter syrup, and all sorts of fruit are there at Orange Leaf. Each and every one of these can be topped on all of the flavors up above. It's really all up to you!
The chocolate fudge is heated in a big jar and is steaming when you pour it on you froyo. The steam travels to your face and the chocolaty, hot flavor makes its way through your nose. Ahhhh, so delightful!
Crushed Reese's peanut butter cups are definitely popular at Orange Leaf. Spreading them over your creation will make it crunchy and the tastes of chocolate and peanut butter fill your mouth. Adding chocolate chips to your froyo is also a good decision. They add both a crunchy touch and more chocolate! Caramel and peanut butter syrups completely change up your dessert. You can put on a lot, or you can put on a little. Either way, these will complete the puzzle piece to your frozen yogurt.
Another amazing topping are the mini Junior Mints. The chill of froyo, along with the tingle over your body of the chocolate and mint, is an awesome combination. Goosebumps will show up on your skin after eating froyo and Junior Mints.
Fruits at the toppings bar vary from juicy sliced pineapples to thinly sliced bananas. There are more than 10 fresh, ripe fruits available.
Overall, Orange Leaf is an amazing frozen yogurt place and, with all of the possibilities, it will just make you want to keep coming back!
(Orange Leaf Frozen Yogurt, 1726 Massachusetts Ave., Lexington, 781-538-6399, http://orangeleafyogurt.com/ )
— By EMILY K.
–April 7, 2013–