Chef Mike Fucci scores big on Food Network
Watertown chef serves up stories about cooking, "Cutthroat Kitchen," and his Helping Hands charity
     On Friday, March 17, 2017, Watertown's best chef, Mike Fucci came to visit Watertown Middle School.
     Chef Mike has had a lot of success in the cooking industry. He says he is ranked No. 5 in Massachusetts, No. 20 in the country, and is in the top 100 in the world. He owns a catering business in Watertown, and has won an episode of Food Network's "Cutthroat Kitchen."
    Chef Mike made a recent appearance on the episode "Fry-day Night Bites," a football tailgating food theme. The judge on the show was former football player Chad Johnson. Chef Mike had to make loaded nachos, fried chicken, and ice cream sandwiches. He made it through all of the rounds of sabotage and became the champion. At the end, Chef Mike won $13,500.
    When asked about what being on the show was like, he described it as, "Amazing, new, and different." 
"
In 25 minutes in a regular kitchen I could feed 100 people, but on the show I could barely complete one dish
— CHEF MIKE FUCCI
    It all started when he first saw an email from the show. He thought it was spam and deleted it. He later saw an Instagram follow request and the user's name was the same as on the email, so he got the email back and called.
    Chef Mike competed against three other chefs: Beth, James, and Sean. (He said he was buddies with all the contestants.)
    "Cutthroat Kitchen" is a elimination cooking show where four guest chefs compete in three 25-minute rounds. That's not all, there are also auctions before each round where you can buy sabotages for other chefs. Mike said the worst sabotage for him was one where he had to stand in a three-point stance and wear a football helmet.
    "The stupid three-point stance. It almost killed me," he said. "There was no padding, it was solid wood, and my knee was digging in."
    Chef Mike said "In 25 minutes in a regular kitchen I could feed 100 people, but on the show I could barely complete one dish."
    Chef Mike said he had some fierce competition but he was able to win by using all his culinary skills. Not all of participating in the show was effortless, though. In the final round, he had to make ice cream sandwiches. He made a peanut butter ice cream chocolate chip cookie sandwich.
     He honestly didn't know what he was doing.
     "I've never baked in my life, which is why I messed up my ice cream sandwich,'' he said. "I just like ice cream, so I had a vague idea of what should go into it. Other than that I didn't really know how to bake."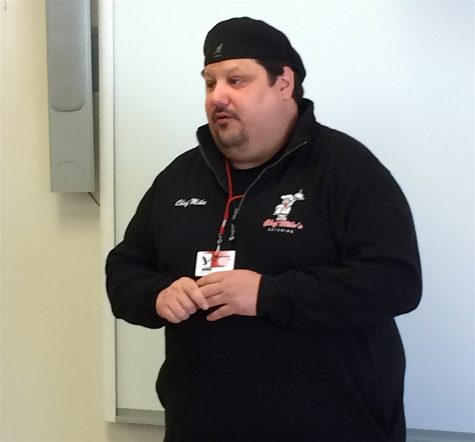 He said that during the show he didn't even pay attention to the cameras, but that when he did he thought they were strange. He said he was in the zone and that he didn't pay attention to anything else while on the show.  Chef Mike said that if you walk into that show with a big head thinking you are the best, you are the first to actually go.
     He said it's very different cooking in real life versus on TV. In real life, he said, you could feed a hundred people in 25 minutes, but on TV you're lucky to feed one.
      Chef Mike grew up in Malden, Mass. Now he calls Watertown his home.
      "Watertown in one of the greatest cities I've lived in in my life, he said.
     Since he was a little boy he was always interested in cooking. When he was in his early teenage years, he worked in the kitchen — but only to clean up after everyone, scraping grills and taking out the trash. His uncle didn't let him get near food until he was 17.
     Ever since then, cooking has been his biggest passion in life.
     He said emphatically, "If you are dedicated to your craft in food, nothing else around you matters."
     Overall, Chef Mike is a funny guy with a colorful personality. Chef Mike likes to consider himself as humble, a goofball, and likes to be at the center of attention — but doesn't consider himself as famous. He had great advice for young cooks, which is for them to be taught correctly. Specifically, to go talk to him.
"
If you are dedicated to your craft in food, nothing else around you matters.
— CHEF MIKE FUCCI
     For Chef Mike, cooking runs in the family, and his biggest inspiration is his uncle.
     "My uncle has been my chef for 18 years," he said.
     Once he was 17 he was finally able to start cooking in the kitchen with his grandfather and his uncle. He has a catering company, "Chef Mike's Catering," which has been passed down from his grandfather to his uncle, and now to him.
     His uncle's name was Mike as well, and he taught Chef Mike everything there was to know about cooking. Uncle Mike taught young Mike how to work quickly, how to use certain tools, and how to make very flavorful dishes.
     "The reason I cook is to please others, making others happy when they eat my food makes me happy," he said. "Weddings, baptisms, you can make it even happier with cooking."
     When talking about his appearance on "Cutthroat Kitchen," Chef Mike mentioned how important his knives are to him. For any chef it is important to have their own knives, because that is what they use the most.
     "I need my knifes like you need your Chromebooks in school," he said.
     Chef Mike said that he has even fired for mistreating his knives.  "Knives are like a chef's children" he said.
     He said the most he has ever spent on a knife was about $450, and he has a knife set holder that can hold about $2,000 worth of knives. Chef Mike still has uncle's and his grandfather's knives. He said their knives have wooden handles are to die for, and still work great.  
     And speaking of knives, he has two tattoos of knives on the back of his forearms, so that when he crosses his arms you can see what it says. On his left arm is the word "capo," which in Italian means "head" or "boss." The other tattoo on his right arm says "chef." So together they read, "capo chef," or "boss chef."
     His signature dish is pan-seared sea scallops with cherry tomatoes, basil, kalamata olives, and a lemon juice to top it off. He said he loves to make it, and especially enjoys eating it.
     He enjoys cooking fra diavolo, which consists of seafood, hard shellfish, steamers, scallops, lobster, a spicy red sauce, and pasta. Some of his other more popular dishes include steak and chicken parm.
     Although he cooks a variety of foods, when he eats, he said, "Seafood and steak are my favorites. I can never get enough of it!"
"
I need my knifes like you need your Chromebooks in school.
— CHEF MIKE FUCCI
     He says his business has gone up since he won on "Cutthroat Kitchen." It also gave him money to help his charity, Chef Mike's Helping Hands, an organization that gives food to the homeless during the holidays.
      Chef Mike started Helping Hands in 2013. He has helped feed thousands of homeless children and veterans across Boston. He got this great idea from a family tradition.
    "In the 1930s, my grandfather used to rent a bus and brought homeless people to his restaurant and fed them and gave them gifts," he said, adding that his grandfather would also dress up as Santa and give all the kids presents. "Since then, I carried it on and that's how Helping Hands began."
     Now, Chef Mike continues the tradition.
     Although for some chefs, being on "Cutthroat Kitchen" would be the height of their career, Chef Mike said he has no plans on slowing down! He has written a cookbook, "Delicious Attitude," and is planning to be on another episode of "Cutthroat Kitchen." He also would like to open a restaurant and is looking for a place right now — and he hinted that it may open in Watertown. He would like to have it open for 2018.
    "Every time I make a meal, I want to make it better and better and better," he said. "I'm always chasing perfection. That's what keeps me going."
(This story was reported and written by Alexandra Thuene, Audrey Garland, Caiden Kiani, Emily Azevedo, Emma Forde, Ennya Papastoitsis, Esther Mendez, Giovanni Reyes, Irene Kandilas, Jeremy Herrera, Jordan Hoover, Jordan Laudani, Lara Cordeiro, Mahera Ahmed, Niamh Murphy, Parsa Tehrani, Sabreena Shah, Samuel Cerqueira, Sean Loughran, and Xander Watson of the Watertown Splash.)
(To learn more about Chef Mike's Kitchen, and  Chef Mike Helping Hands, go to http://www.chefmikeskitchen.com/.
–March 23, 2017–