You've been dress-coded!
Watertown Middle School students, staff struggle with rules that are too loose for some, too tight for others
"Dressing up is your personality, and when you take that away, you take away who people are," said Kevin Cardoso, a sixth-grade student at Watertown Middle School.
The dress code is a set of rules that tells all WMS students what they can and can't wear. It has recently been seen as an issue to most students.
Most girls are against the length of shorts, the ability to wear leggings, and the two-finger rule for T-shirts.
"I think students are mature enough to know their boundaries of what to wear to school without a dress code," said Jimena Canales-Alfaro, a seventh-grade student.
Another student at WMS said, "The dress code is fair, but the teachers are very picky about it."
A great way students have to get their opinion heard is to ask Mr. Del Porto if they can join the Dress Code Committee.
Although many students do not agree with the dress code, there is a handful of students who like that the students have rules for what can be worn. A sixth-grade student said, "I like the dress code because people can't wear inappropriate clothing."
When students are dress-coded, they must change into clothing they have brought from home, or clothing provided by the nurse, or they may have to call home.
A student who breaks the dress code three times will get a lunch detention.
When students get dress-coded, they are usually upset at the teacher.
But teachers don't make all of the rules, they just enforce them. And they do have an opinion on them, too.
"We need to maintain a serious atmosphere of learning and don't need students to be distracted by inappropriate clothing," said Ms. Ferguson, a sixth-grade science teacher.
One of the complaints by many students is that the rules are enforced differently, depending on the student and the teacher.
The Watertown Splash showed five teachers the following pictures and asked if the students should be dress-coded:
Outfit A — 0 for 5 

None of the five WMS teachers asked said that they would have dress-coded Out- fit A. One teacher said that the outfit was questionable because if the student raised her arm, it could've exposed some of their stomach, but she would not have dress-coded the student.
Outfit B — 3 for 5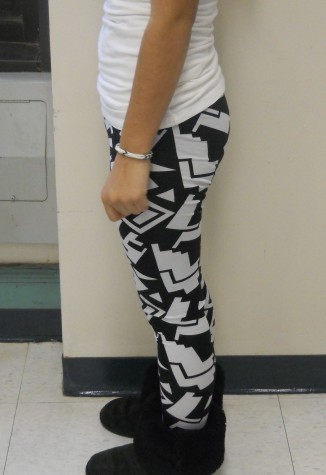 Three of the teachers asked said that they would dress-code Outfit B. "The outfit is out of dress code," said Ms. Hegarty. "Since yoga pants are not allowed because they're too tight, leggings are not allowed either."
Outfit C — 1 for 5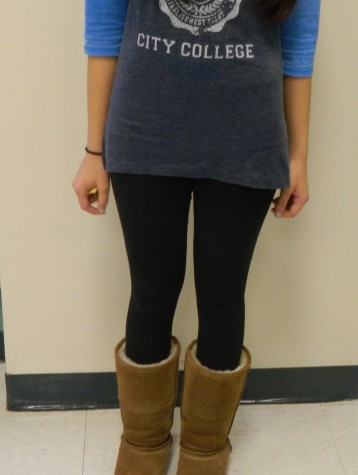 One of the WMS teachers said that they would dress-code Outfit C. "I try not to em- barrass the kids and talk to them in private," Ms. Powers said. "I would say something like, 'Do you realize …' "
–March 18, 2014–
Leave a Comment