Fans hunger for first "Divergent" movie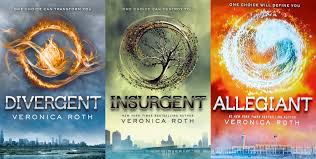 Advertisement
Hang on for a minute...we're trying to find some more stories you might like.
The Divergent trilogy is a hit series by Veronica Roth flying off the book shelves. Being compared with "The Hunger Games" and other Dystopian dramas, "Divergent" might be the best overall.
The trilogy has been popular in schools, cities, states, and even countries! In fact, its so popular that they are even making the trilogy into movies. All the Initiates (Divergent fans) are very excited to see the upcoming movie, which is coming out March 21.
Tris, the main character, is played by Shailene Woodley and Four/Tobias is played by Theo James.
Many students at Watertown Middle School had a lot to say about the books and the upcoming movie. Some even said that "Divergent" is better than "The Hunger Games."
Arianna P., a seventh-grader, said, "The book is action packed and very interesting."
Another WMS seventh-grader, Christine Z., agreed. "I like it because it's different and the situation is unique," she said.
Even students who haven't read the book, but saw the trailer thought it was thrilling. Ehsan Y., another seventh-grader, "I want to watch the movie when it comes out in March because it looks very exciting."
The Divergent trilogy is about a girl named Beatrice "Tris" Prior who had to make a decision that would change her whole life. This story takes place in Dystopian Chicago where there are five factions: Candor (the honest), Abnegation (the selfless), Dauntless (the brave), Amity (the peaceful), and Erudite (the intelligent). Each faction has its own kind of lifestyle and characteristics that the people have to follow.
All 16-year-olds must choose a faction that they will live in for the rest of their lives. Beatrice has to choose between her family or who she really wants to be. In the end, her choice surprises everyone, especially herself.
During Beatrice's ambitious initiation, she changes her name to Tris. She faces many challenges with her fellow initiates and struggles a lot to live with the choice she made.
She also has a secret that she is told is very dangerous and can even cause her own death. But can that choice save all her loved ones or destroy her?
The breathtaking trilogy will blow your mind.
"Divergent" opens on March 21.
–Feb. 26, 2014–