Victoria Newhuis has many shoes to fill in "Rodgers + Hammerstein's Cinderella"
Dance captain excited for musical's Boston run at Emerson Colonial Theatre from Dec. 18-Dec. 30, 2018
Luke Currier, Elizabeth Horner, Darrion Alleyne, Emily Costa, Daniel Devoy, Sara Dickie, Rolguy Dimanche, Jaden Hall, Yassemine Idelkanoun, and LiaLah Mawanda
December 15, 2018
Sixth-grade students from Kellie Spillane's class at Watertown Middle School interviewed Victoria Newhuis, dance captain of "Rodgers + Hammerstein's Cinderella," on Wednesday, Dec. 12. "Cinderella" will be running at Emerson Colonial Theatre in Boston from Dec. 18-Dec. 30.
Victoria spent a half-hour with the students, which was done remotely using GoToMeeting. She was very upbeat, positive, honest, and patient while answering all of the questions. Students were able to pick up some important study and organizational tips from Victoria — such as her strategy of writing notes on index cards.
She said that audiences of all ages will be able to connect with the positive message that "Cinderella" brings. She said this version, by Rodgers + Hammerstein, portrays Cinderella as an empowering female that "saves the prince just as much as he saves her with gorgeous music and a retelling of a familiar story."  
Here are some highlights from the interview:
Q: How long have you been performing?
Victoria has performed since she was a little kid. She said that she had performed about 10 times in middle school.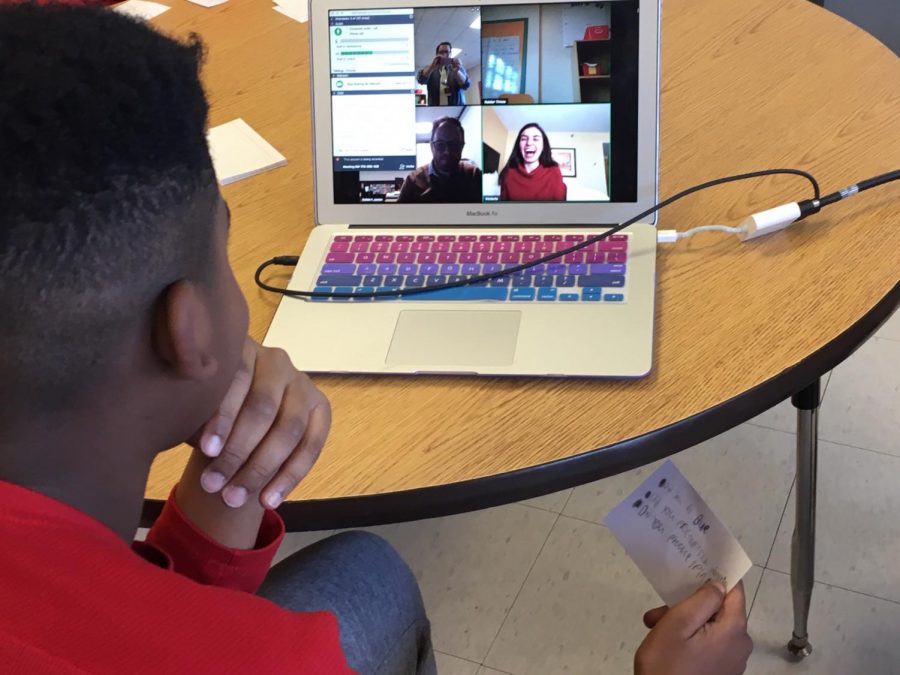 Q: What celebrities have you met?
Victoria said that she had met the twins from Harry Potter, Oliver Martyn and John Phelps.
Q: When you were a kid, did you have a dream of being in a musical?
Victoria says yes because she always performed for her family and she knew she was made to be a performer. She shared a memory of performing plays with her cousins at family gatherings!
Q: When did you start acting or dancing?
She mostly started professional acting in the beginning of college at Boston Conservatory at Berklee. Victoria said she started acting when she was 9 years old.
Q: What other plays were you in?
Victoria was in "42nd Street", "Show Boat", "A Chorus Line", "A Little Night Music", and many more.
Q: What were your hobbies in school?
Victoria´s hobbies in middle school were art/drawing and dancing.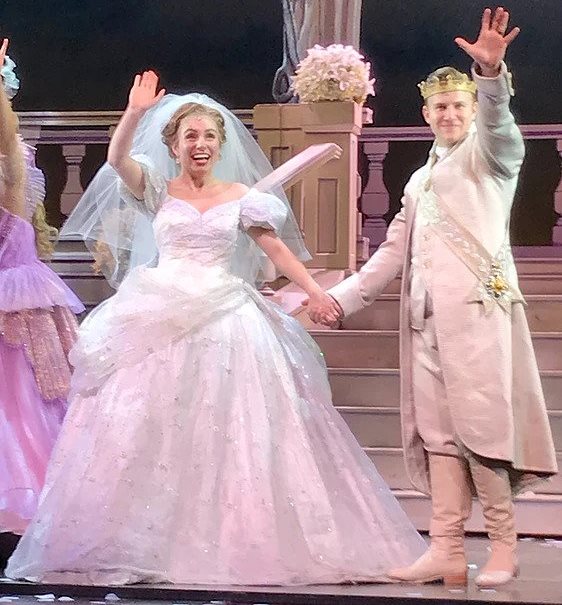 Q: What college did you go to?
Victoria attended Boston Conservatory and she loved that school. Victoria is excited to come back to Boston! "I fell in love with the city!" she said. Victoria remembers the Freedom Trail, the Public Garden, the Swan Boats, and the ducks. Victoria also is excited to perform in the historical Colonial Theatre. She shared that many plays by "Rodgers + Hammerstein" debuted or were performed at the Colonial.
Q: Did you do ballet? Why is it important?
"Yes, I did, I still do," she said. Victoria started ballet when she 3 years old. It is important to continue ballet because it's the basis of everything.
Q: Did you practice slow dancing?
Victoria's ballet helped her for slow dancing. Victoria didn't take slow-dancing lessons" "I know how to partner dance and swing dance, so that helps."
Q: What is your favorite dance style?
Victoria's favorite dance is a jazz/musical theater style. She referred to the style of Ginger Rogers and Fred Astaire!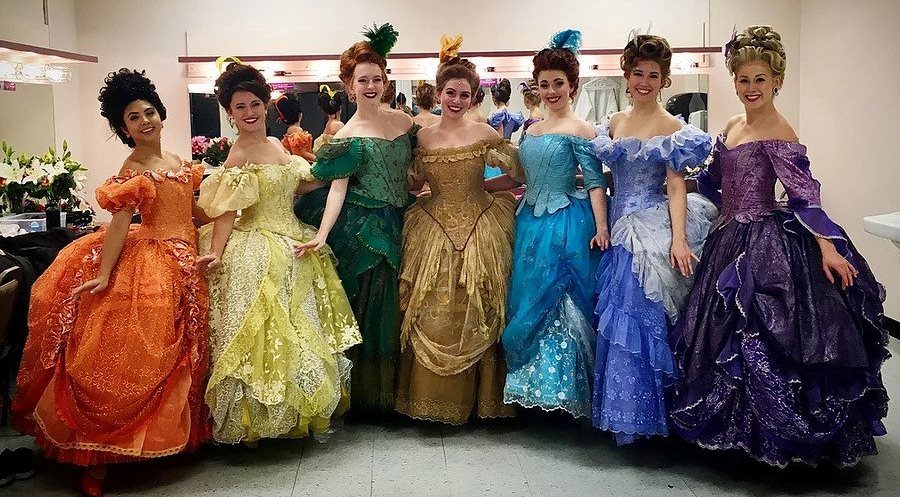 Q: What happens if you injure yourself?
They are called "callouts" — you can call the stage manager and tell her that you can not do the part because your hurt and you will not have to do the play. A "swing" will be called in for your role. A "swing" is someone who plays more than one part and acts as an understudy. When someone is sick or injured they will literally "swing" on in a moment's notice. Sometimes a "swing" will have a solo part and other times more of a dancing part. It depends on who she's going on for. "Cinderella" has a lot of solos, so she does sing, dance, and act.
Q: When you were a little girl, who was your favorite story characters?
Victoria's favorite story character was Winnie the Pooh when she was little. But when she was growing up Mary Poppins and Harry Potter became her favorites!
Q: Do you like the Disney Cinderella?
"Yes I do," she said, even though her production isn't Disney.
Q: Who is a funny character that you have played?   
"The Vanilla Cake Lady is a funny character from 'Cinderella,' " Victoria said. "There is a moment during the ball when Cinderella says, 'You shouldn't be so mean to each other, you should treat each other with kindness.' The Vanilla Cake Lady starts yelling about how much she loves vanilla cake and the audience laughs every time!"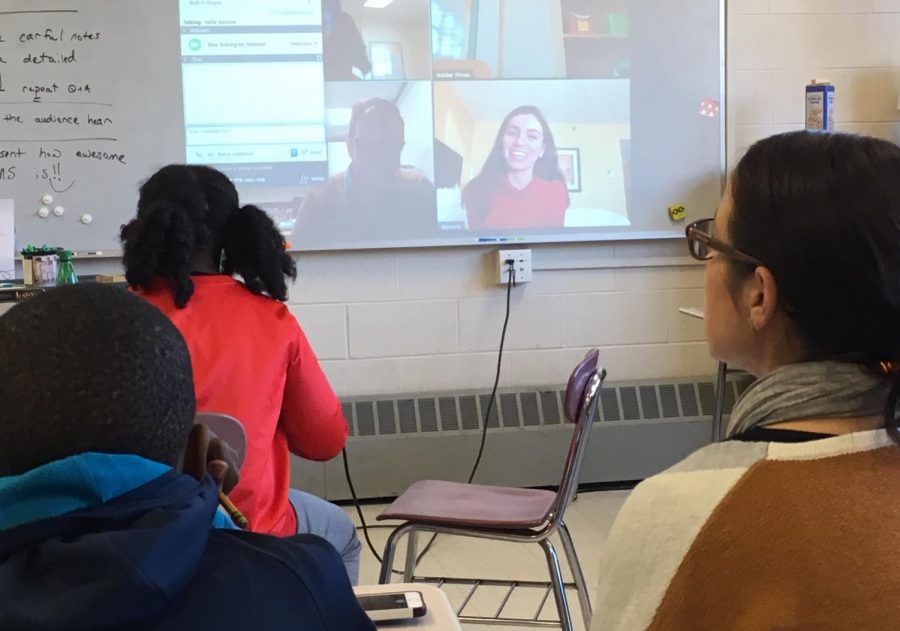 Q: Do you have any siblings?
Victoria has a sibling that is five years younger; she is 18 and also on tour with Disney on Ice.
Q: How hard was it to get past auditions?
It's hard to go to so many auditions and keep track of all of the auditions. You have to go to many auditions in order to get a job, it's a lot of work, but it's worth it.
Q: How do you get yourself in character?
Victoria said she reviews her notes, sees if she needs to do the same parts for people, and she also meditates. Victoria says that she centers herself and calms herself before performing.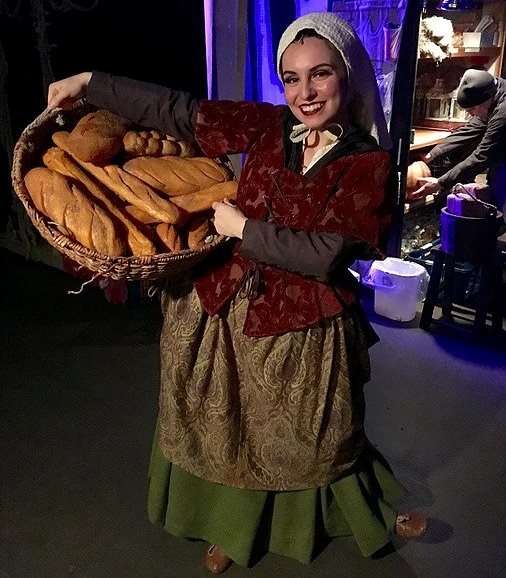 Q: How long do you have practice before the performance? Do you practice the dances every day?
She has practices for 2½- 3½  weeks, then she gets to perform in front of a live audience! After that, Victoria holds rehearsals with her role as the dance captain. They run the show as much as they can.
Q: Who teaches you the dances when you need to improve?
The whole show is taught, usually by her music director, her choreographer, and her director. They make sure everything is in place then it's her job as the dance captain to make sure it stays like that and to hold rehearsals
Q: Do you every stay with family while you touring?
Some of her family lives all over the US, so it is fun for her and other cast members to get a break from the hotels.
Q: How do you travel to other places and cities?
The cast travels on a coach bus, if its under a day of travel. If it is over a day, then we take a plane. When Victoria is in her hometown, she often stays with family, but in other cities, she stays in a hotel.
Q: When you are not in the scene, what do you do backstage?
Victoria said that she usually gets ready for her next scene. There is not a lot of time to get ready for the next scene. She also catches her breath and drinks lots of water because there are a lot of physically hard scenes. Also there are TV monitors in the dressing rooms, so they can see what's going on stage.
Q: Does the music for "Cinderella" go in 8 counts?
Victoria said that it depends on what time the dance is in. They usually go by 8 counts, but for the waltz they go by 6 counts.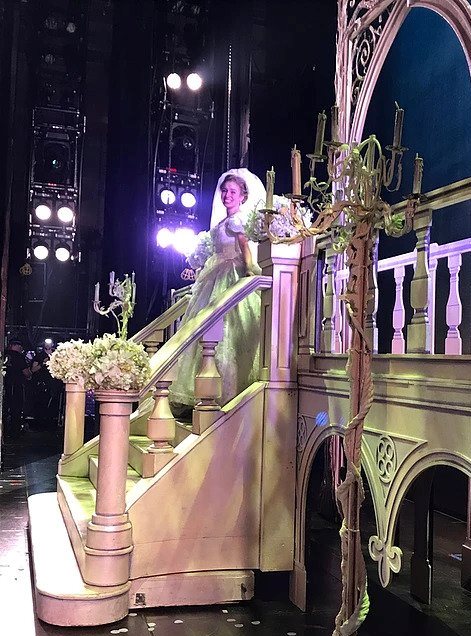 Q: What happens when a performer messes up?
If they mess up, she said, "They make it it work! The show must go on!"
Q: How do you remember your parts?
Victoria has a strategy to remember her lines and parts. She writes notes on Post-its and index cards. She keeps the cards organized in a spiral deck with tabs and dividers that have her reminders for different characters that she plays. In between scenes, she reviews her notes backstage. She uses the notes to practice with other performers.
Q: What dances are hard?
The dances that are difficult in "Cinderella" involve lifts with partners. One "big lift" is the flip swing during the ball scene. The man has to the lift the girl really high in the air and the girl had to balance on the man's shoulder so they don't fall. It's a difficult move, but also more complicated in a big ball gown.
("Rodgers + Hammerstein's Cinderella" will run Tuesday, Dec. 18, through Sunday, Dec. 30, at Emerson Colonial Theatre in Boston. For tickets or for more information, go to http://www.emersoncolonialtheatre.com/calendar/rodgers-hammersteins-cinderella/.)
(Story reported and written by Watertown Splash correspondents Luke Currier, Elizabeth Horner, Darrion Alleyne, Emily Costa, Daniel Devoy, Sara Dickie, Rolguy Dimanche, Jaden Hall, Yassemine Idelkanoun, and LiaLah Mawanda.)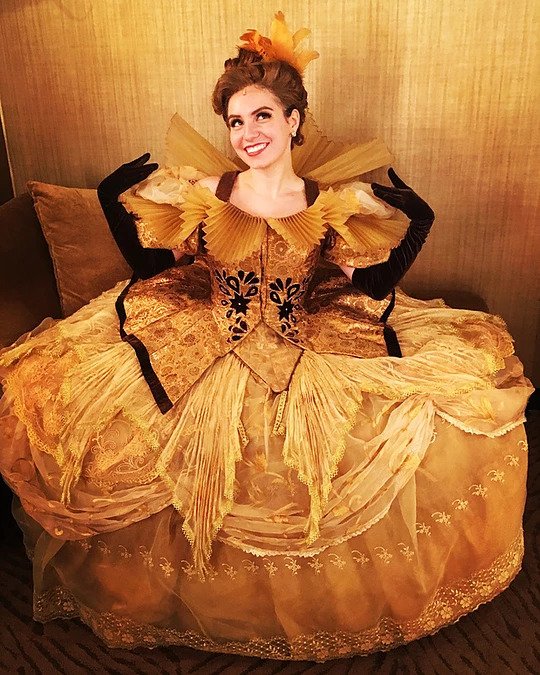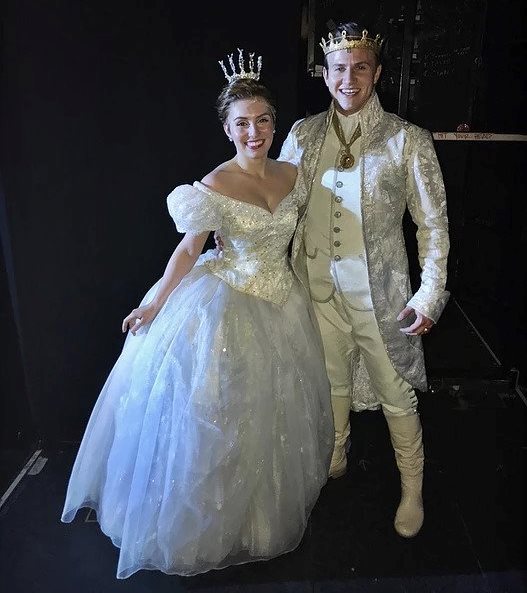 –Dec. 15, 2018–