Pennies for Patients drive returns to WMS!
Skate Night on Friday, Rummage Sale on Saturday just two of the events to raise money for the Leukemia & Lymphoma Society
     Every year at Watertown Middle School, students help make the world one step closer to finding a cure for cancer. This month-long fund-raiser begins in early March.
     They do this by participating in Pennies for Patients.
     On Friday, March 6, Ms. Fitanides's homeroom will be holding a Skate Night at the John A. Ryan Arena, next to Russo's and the Sons of Italy. This event will take place from 6-8 p.m. It is $3 per person, or $10 for a family of four or more. Ice skates can be rented for $2 and hot chocolate and candy will be sold for $1 each.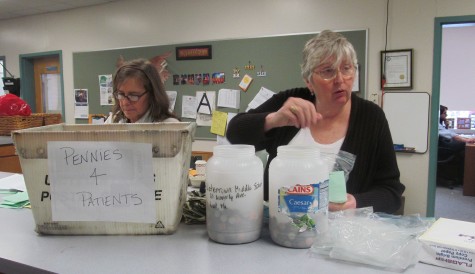 This is just one of the many events being held by students and teachers to raise money for Pennies for Patients, which benefits the Leukemia & Lymphoma Society's School & Youth Program. This year's drive runs from March 2 to March 23.
     On Friday, March 6, Ms. Shock will be having crazy hair/hat day. When walking into the school, students may pay $1 so they can be allowed to either have a hat or crazy hair during the school day. Students will be given a stamp to show teachers that they are participating in crazy hair/hat day. 
     Also Ms. Shock will be dying her hair once again, but this year two new colors have been added: black and multicolor. Students should make sure to stop by her room to vote for a color!
     Eleanor Donato, one of the sixth-grade geography teachers, leads the Pennies for Patients drive. She says that WMS last year raised $31,082.30, which was the highest amount in the region for the 11th year in a row. Out of 28,000 schools participating last year, WMS raised the fourth-highest amount in the United States!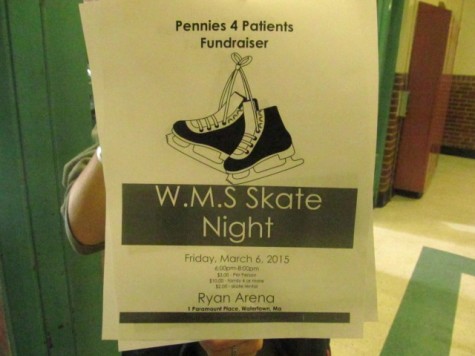 This year, students and teachers have put together many interesting contests and fund-raising events.
    Love the New England Patriots? If so Ms. Evans will be raffling off a brand-new Patriots championship blanket.
     Love the Patriots, but also like stuffed animals? That's even better because she will also be raffling off a 3-foot by 3-foot stuffed polar bear. 
     Ms. Donnellan's homeroom is raffling off a night at the Liberty Hotel in Boston.
     Mr. Oates's will be having a rock-paper-scissors battle and the winners will be getting a homework pass. He is also having students chuck dodgeballs at him for only a dollar a throw.
     On Saturday, March 7, Ms. Evans is running the annual Rummage Sale from 10 a.m.-2 p.m. in the Watertown Middle School cafeteria. Home-baked food, household items, clothing, toys, books, and surprises of all sizes can always be found for any shopper. In the spirit of Pennies for Patients, any items not sold at the Rummage Sale are donated to charity.
     Anyone who would like to help with the Pennies for Patients drive is encouraged to contact Mrs. Donato at 617- 926 –7783  (X 35507) or eleanor.dona[email protected]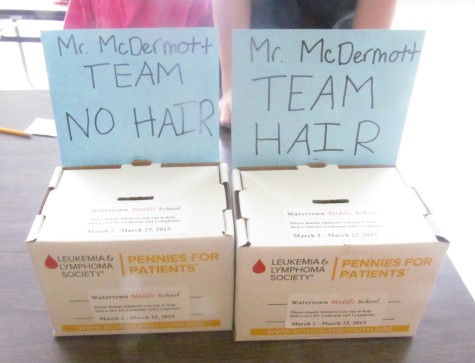 Donations of money, checks, or raffle items may be dropped off at Watertown Middle School during regular hours.
     For those would prefer to donate directly to the Leukemia & Lymphoma Society, checks made be sent to 9 Erie Drive, Natick, Mass., 01760, with a note saying that the donation is in support of the Watertown Middle School.
     Donations may also be made on line at ma.sy.llsevent.org/watertownmiddleschool.
     Thank you to everyone who has helped Watertown Middle School in the fight against cancer!
–March 5, 2015–