Aaron Dushku shakes off the pressure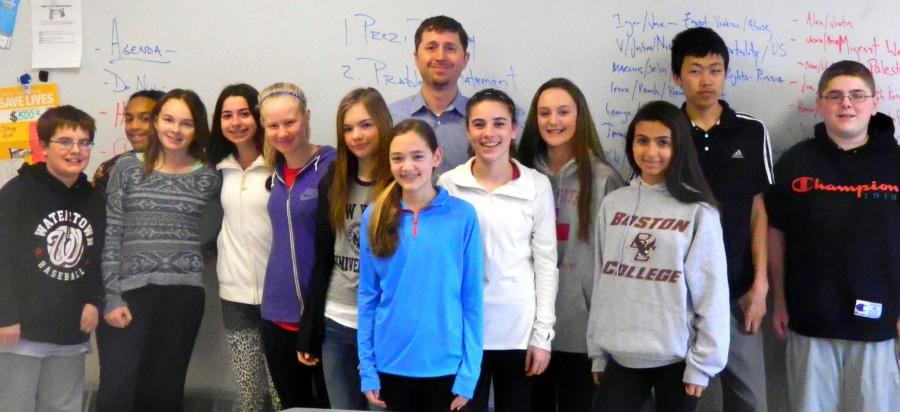 BRENDAN G., TOMMY P., MADDIE P., ANTHIA V., and MARINA H.
April 21, 2015|294 Views
     The name Aaron Dushku is familiar around Watertown, and it is about to get even more well known: Aaron will be competing in the Watertown version of Dancing with the Stars on May 1 to help raise money for the Watertown Education Foundation.
     "It's going to be a blast," he said. "I'm going to get up there and shake my booty!"
     Dushku went to Phillips Elementary School, East Junior High School, and Watertown High School. He is now a town councilor.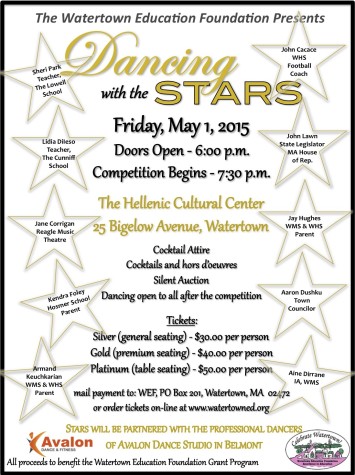 "[The Watertown Education Foundation] picked people who are known in Watertown so they can draw a crowd," said Dushku.
    State representative John Lawn, Watertown Middle School teacher Aine Dirrane, and WHS football coach John Cacace are among the 10 people dancing in this event.
    Phil Oates, a seventh-grade math teacher at WMS, competed in the event last year and came in third.
    "It was a lot of fun and it's a lot bigger this year," he said.
   Dushku takes lessons at Balera School of Ballroom Dance in Newton with his professional dance partner. When asked about his dancing background, he said, "Not when I was little, not at all. I went to a junior high dance and danced with a girl once."
   Dushku said he was in one of the last classes to attend East Junior High  school before both junior highs combined to make Watertown Middle School. When Dushku attended WHS, he played goalie for the varsity soccer team. He also played for the junior varsity basketball team and he was even on the chess team. ("We were division champs!" he said.)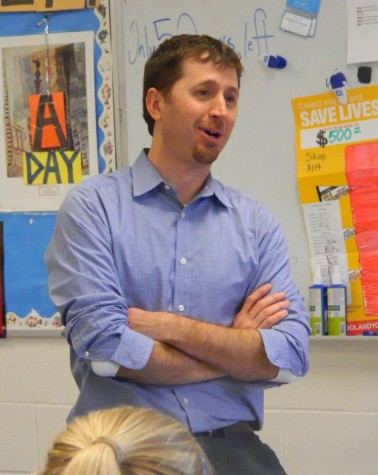 Dushku went to Suffolk University and was in the Peace Corps in South America. He said a town councilor helps Watertown by creating new laws and enforcing old laws. He also helps Watertown chose what the town spends its money on.
    When asked why he wanted to be a town councilor, he said, "Small little pieces can change the whole world! The best stuff you can do starts in your backyard."
     After Suffolk, he earned his Masters from Clark University in geographic information science. Now he has a day job working for the Natural Resource Conservation Service of the US Department of Agriculture, where he helps people manage land and make the environment better.
     This is the second year of the fund-raiser. The Watertown Education Foundation is a parent-organized foundation that helps schools in Watertown with supplies and money. The WEF gets money from Dancing with the Stars and other fund-raisers.
     Dushku and the nine other Watertown "stars" will compete May 1 at the Hellenic Cultural Center, 25 Bigelow Ave. in Watertown! Tickets are available at the Watertown Education Foundation website at  www.watertowned.org. For questions, write to [email protected] Tickets are selling fast, so get yours soon.
–April 21, 2015–