Hurling a big hit at Fenway Park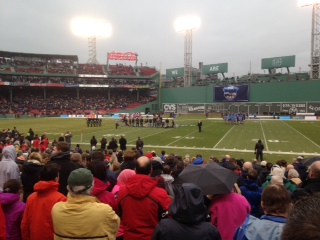 EOIN M., Watertown Splash staff
November 30, 2015
   Tweet! That was the sound of the referee starting the game of hurling at Fenway Park.
    On Sunday, Nov. 22, 2015 Galway and Dublin, two of Ireland's best hurling teams, came to Boston to play a match in front of more than 20,000 people.
    The game of hurling is said to have originated in Ireland in the 1200s and has been played there ever since. The game of hurling is played with a wooden stick called a "hurl" and a ball called a "sliotar."
    As the game began, you could tell that both teams wanted to win as badly as the other. The game included heartstopping saves, blistering goals, hard tackles, and, on a few occasions, fights.
    For most of the game, Galway trailed by a few points, then near the end, Galway scored to go ahead. Galway never looked back, putting up a strong defensive stand to win the game, 50-47.
   All in all, it was a great day and I hope it happens again soon.
–Nov. 29, 2015–