Lokai bracelets filling the halls of WMS with popular look, positive statements
SANA R., Watertown Splash staff
December 4, 2015
   Lokai bracelets are starting to trend at Watertown Middle School, and are the way better version of rainbow loom bracelets!
   Lokai bracelets are bracelets that are made from water from the highest points of Mt. Everest and from the Dead Sea. The Lokai bracelets come in an assortment of colors, so you have a wide variety to chose from. A lot of teens, kids, and even adults like to wear these bracelets mostly because of  the message and the support.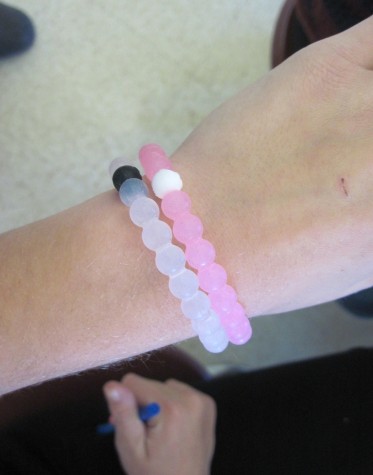 When you first buy your Lokai bracelet, it comes with a slip of paper, with writing on both sides.  One of the sides explains the white little beads, which means that you sometimes do good, and that's good for you. The other side explains the black beads, which mentions that if something goes wrong, keep your head up high.
    There are also pink lokai bracelets that you can get to support breast cancer research.
    "I bought my Lokai bracelet because I wanted to support breast cancer research," said sixth-grader Delanie L. "I think that they are really pretty, and are a big help to fighting breast cancer."
    Lokai bracelets can be found in many places, but WMS students got theirs  at the Paper Store.  
    "I got my bracelet at the Paper Store, and think they are very cool," said sixth-grader Ciaran B.
    Kara O. got her bracelet from a store on Cape Cod.
    "I bought my Lokai bracelet because everyone had them and I wanted one, too," said Gabriel A.
    When Carly M. was asked why she got a Lokai bracelet, her response was that she doesn't like the bracelets, but she wanted to support the fight against breast cancer.
    Right now these bracelets are very popular, but will that change in the next few weeks?
    Sixth-grader Toni E. said they probably won't be popular after a little while. On the other hand, Delanie L. disagreed, saying that they probably will stay popular for a very long time.
     Kiara C., a WMS seventh-grader said, "I think that they're another fashion trend. They're huge, but give them a little bit of time and they will be nothing."
–Dec. 3, 2015–