'There are a lot of things happening here that are really special'
Dr. John Brackett brings interesting background to new job as Watertown's interim superintendent of schools
The Watertown School Committee has appointed a former superintendent, math teacher, and principal as its temporary superintendent for Watertown Public Schools until June.
"I've done other things in life, but this is the one thing I love to do!" said Dr. John Brackett.
Dr. Brackett visited Watertown Middle School on Nov. 16 to speak with Watertown Splash reporters and answer questions about his new job.
However, one of Dr. Brackett's first jobs was quite unusual. For three years, he has worked as milkman. A milkman was like a paperboy, except he delivered milk instead of newspaper to homes.
"My first year as a milkman," Dr. Brackett said, "we didn't have a fridge in the truck, so I had to shovel shaved ice into the back of the truck."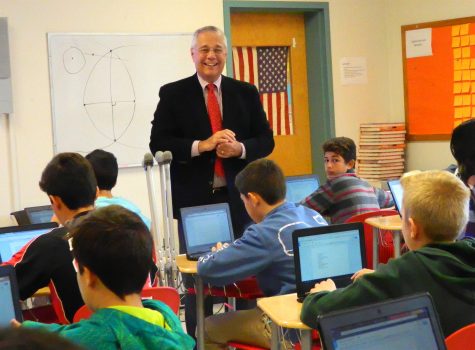 Since then, Dr. Brackett has had many other careers such as superintendent in Weston, Sudbury, and Michigan, and assistant superintendent in Framingham and California, and prior to that, Brackett had been a math teacher, and a high school principal.
He started in Watertown on Nov. 1, 2016, following Jean Fitzgerald, who retired.
"I love my job, and when you do work that you like to do, it doesn't feel like you're working," he said.
He was asked "What are your goals this year?" He responded with, "I want to hire a fairly permanent superintendent."
In the winter, Dr. Brackett likes to keep school open as much as possible, but in the case of very bad snow, the school will be closed for safety reasons.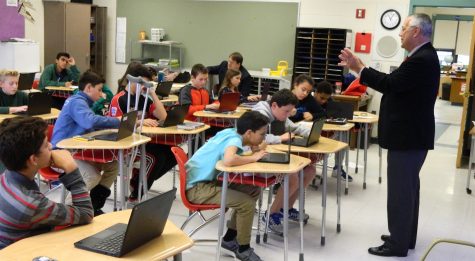 Dr. Brackett is actually not from Massachusetts, he grew up in Michigan. He came to Massachusetts in 2003 to be with his wife, a native of Massachusetts.
Dr. Brackett explained the differences between Massachusetts and Michigan's school districts. He said that the standards between the schools are the same, but the schools are organized differently. Watertown works as a district, while Michigan is more independent.
He said he is a big baseball fan, and wanted the Cubs to win in the World Series. He was born a Yankees fan, though, following his father who was from New York. Dr. Brackett's father was born in 1916. He was Italian and was a Yankees fan because they had a lot of Italian ball players.
Dr. Brackett currently lives in Marlborough with his family. He said good things about Watertown "a lot of special things happen in Watertown."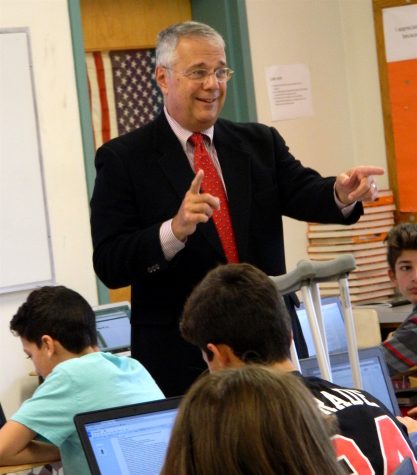 One question that he really put detail in was "What is one word to describe WMS, and why would you describe it that way?"
He responded with "Impressive," he talked about why he thought this school was impressive and he mentioned that the students and teachers were all focused and everyone cared about each other.
He was asked what he thought of Watertown Middle School and the differences between WMS and other schools he's worked at.
"WMS is very welcoming and very friendly," Dr. Brackett replied. "I am really impressed because the things that happen here don't happen everywhere."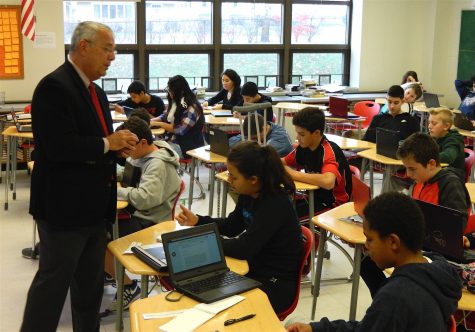 Dr. Brackett has walked around and has heard the conversations going around and he said he's been liking what he's hearing.
He said he has enjoyed stopping by different classrooms and watching different teaching methods. He really enjoys the level of teaching being brought to the students.
"There are a lot of things happening here that are really special," he said, "and they don't happen in a lot of schools."
Dr. Brackett also talked about how Watertown is diverse with many people from many cultures and families attending the schools. He talked about how he wanted to get more of a understanding of the district.
His expectations for the students have always been the same: He expects them to be hard working and have a successful mind-set.
When asked what he wants to do for the community, he stated that he wants to get a better understanding of the school districts and the district itself, he wants to help with the selection of the permanent superintendent, and to work on building or remodeling schools in Watertown. He has looked into remodeling the middle school and said that there is a chance that it might happen.
He was asked about his thoughts on the recent presidential election. Dr. Brackett said, "The important thing is that we continue to do what we think is right and treat people the way we think we want to be treated."
(This story was reported and written by Millicent Abboud, Mason Andrade, Martha Aramthip, Gabe Avakian, Zakary Babali, Lara Cordeiro, Anthony Diallo, Nicholas Dipace, Izadora Goncalves, Adam Haloui, Bryan Hernandez, Waqas Khan, Ryan Leonard, Delanie Lombard, SeanAnthony McCusker, Alex Miller, Nic Oteri, Liana Rice, Ramon Sara, Nathan Sergi, Gabriel Shapiro, Bridget Sullivan, Arya Tehrani, and Nick Vick of the Watertown Splash.)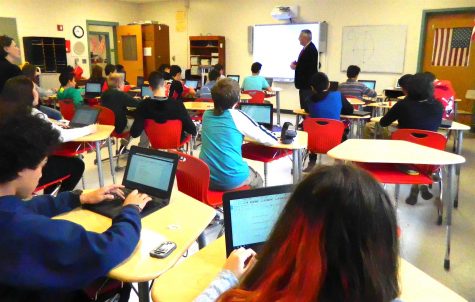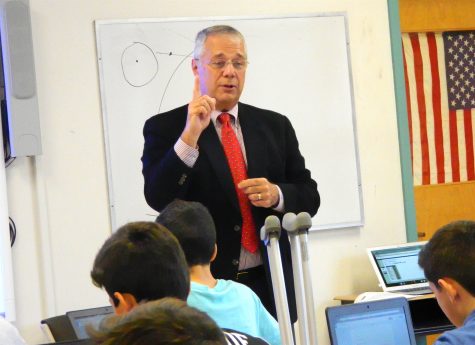 –Dec. 1, 2016–