Remembering Edgar Krasa, and never forgetting
Holocaust survivor, who visited Watertown Middle School many times over the years, died recently at 92
[Editor's note: Edgar Krasa, a Holocaust survivor and a longtime visitor to Watertown Middle School, died on Feb.7, 2017, in his Newton home at 92. The following is a reprint and video from a 2010 Watertown Splash story about one of Mr. Krasa's visits to WMS and his talk with the eighth-graders.]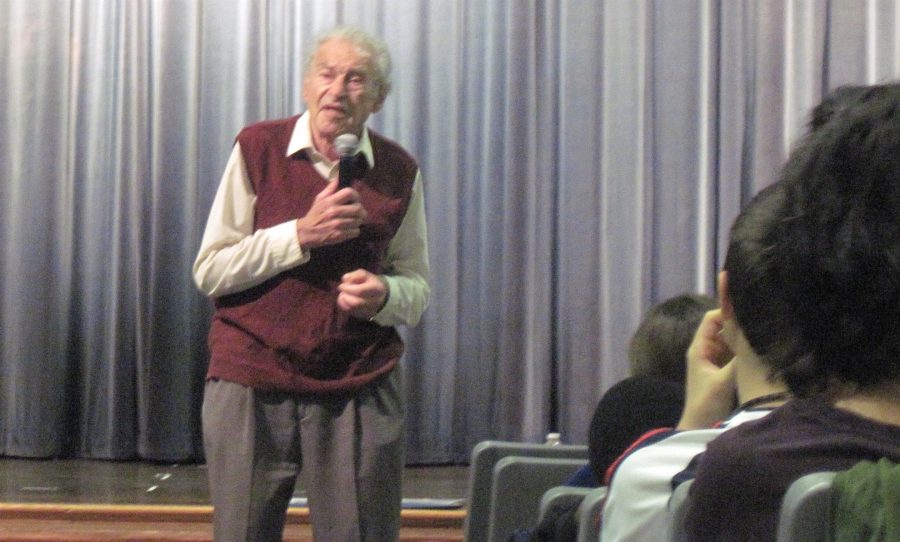 The eighth-grade class settled into the auditorium to hear an amazing story from one of the few Holocaust survivors left. Edgar Krasa made his fifth annual visit to Watertown Middle School to speak about his unimaginable, unthinkable experience during the World War II genocide.
He walked into the auditorium, Thursday, Oct. 28, 2010, and immediately everyone began clapping. He took his position at the front of the stage with confidence, and began talking about when he was a teenager in Czechoslovakia.
His aunt had suggested that he become a cook, that way he would never have to go hungry. Whether the choice was up to him or not, that was what he began doing. Slowly the Nazis' control started spreading, starting with a gold Star of David that all Jews had to wear. Even though Krasa and his family did not live in Germany, the Nazis came to collect all the Jews. Krasa and his family were sent to a smaller camp called Terezin.
Terezin was a special camp for gifted Jews, but they were still treated with no respect. Krasa told us how if you were too old, too young, or unhealthy how they would send you away to the crematories, where they would burn those who weren't fit enough for the hard labor. He also told us how when the Red Cross came to visit, all the prisoners were required to put on a show. The Nazis would feed the children chocolate and let them play on the playground to fool the visitors.
One day, he was sent to another concentration camp, Auschwitz. There he worked in a tools building factory with many other prisoners. They were never fed enough, and so they were always starving. One day, he found an onion on the side of a little road. He dared himself to pick it up, and he put it in his pocket to save for later. But when he got back to his factory, the guards were frisking all of the prisoners. He still had the onion in his pocket, and if the guard had found it he would have been killed. So, in all of about 15 seconds, he ate the whole onion.
This was just one of the many of his stories about his experience in Auschwitz. He also told the story of when he was shot by a guard on his walk to freedom, and how he survived in the woods. Also how overjoyed he was when he realized it was all over. Krasa didn't leave out a detail. He told the eighth-grade students of WMS everything, down to the food he cooked for the Russian Army after they had drove the Germans away.
At the end, WMS thanked him with a fruit basket and a box of chocolates. The teachers plan to see him back at the middle school next year so he can tell his story again to a new group of students, without a detail left behind.
–Dec. 5, 2010–