Hand chimes and 'Hamilton'
Winter Concert showcases the many talents of Watertown Middle School students
     The Winter Concert was held on Tuesday, Dec. 13 and Friday, Dec. 16. The concert ranged from instruments to chorus, and the chorus was accompanied by the hand chime choir and percussion ensemble.
     Ananya Barton-Shiner, a seventh-grade soprano 2, was really excited for the Winter Concert "because the songs are really fun and different."
     The concert started off with band, strings, and jazz band. After intermission, the concert choir came in, standing in the aisles, getting ready to sing the energetic song "Jambo." It was sung by the sixth-, seventh-, and eighth-grade concert choirs, with solos by Eden Salley, Alicia Karunaratne, and Taylor Lambo.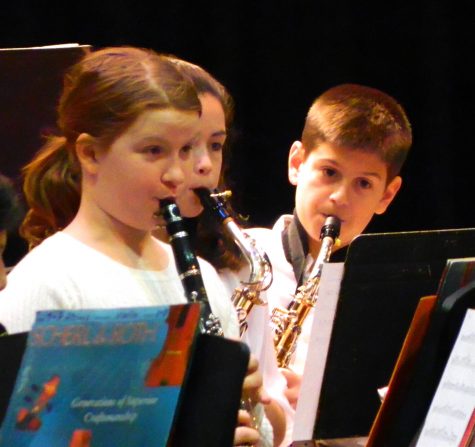 After "Jambo" came a poem by Robert Frost called "Stopping by the Woods on a Snowy Evening." That piece is usually used by a more advanced choir with just 16 kids, but chorus teacher Abby Casey thought it would be a better idea for the seventh- and eighth-grade choirs to sing it. As the song played, they were accompanied by the hand chime choir, which played quite nice and delicately.
      After that, the hand chime choir took the show and played "Jingle Bells" and "Harry Potter." Then the seventh- and eighth-graders came out to sing "The Room Where it Happens" from the Broadway musical "Hamilton." The soloists included Adam Haloui as Aaron Burr, Marissa Del Carmen as Alexander Hamilton, and Lara Cordeiro as Thomas Jefferson.
     The sixth-graders then came out and sang "Follow the Drinking Gourd" and the seventh-graders sang "Where I'm From," a special song written by Cluster 4 students, including Mona Houjazy, Mackenzie Hoover, Miar Amleh, Sophia Noble, Mattie Hoffer, Parham Medhati, Ivy Seek, Mateo Kalemi, and Eoin Morrissey. Ms. Casey wrote the lyrics as she was walking past the Cluster 4 hallway and seeing kids' work that was really deep and touching.
     To end the show, all three concert choirs sang, "A Total Eclipse of the Heart," which was conducted by Ms. Casey and was a real crowd pleaser for both students and parents.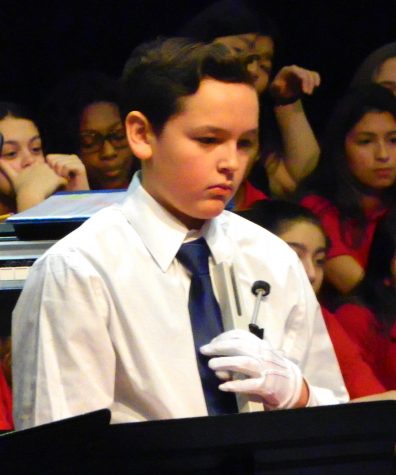 –April 19, 2017–