New Watertown schools superintendent eager to get started
Dr. Deanne Galdston visited Watertown Middle School on May 4, 2017, to talk to the Watertown Splash about her recent appointment to her new job as superintendent of the Watertown Public Schools.
Dr. Galdston — who goes by Dede — will of officially become superintendent of schools on July 1.
"I think every student deserves the same type of learning, so that as a community we can all be successful," she said. "We're all working together here."
Dr. Galdston said she is very excited to meet students from Watertown and to get to know them throughout the new school year. She said that, even though she has never lived or worked in Watertown, she feels comfortable in its environment.
She said she once considered living in Watertown, but sadly that didn't work out. Right now, she lives in Newton Corner with her husband and four sons, ages 16, 13, 11, and 11.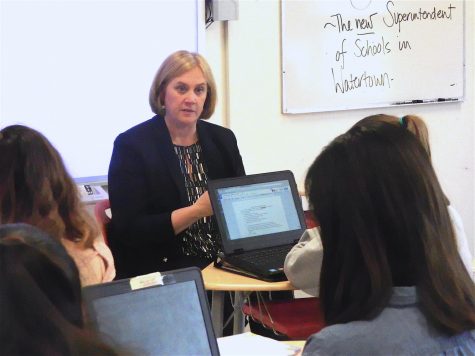 She was originally a Spanish teacher and she worked in the bilingual community. She has worked in Billerica for 21 years and has also been a history teacher, principal, and the assistant superintendent.
Dr. Galdston stressed that, "One of my core values is that we as a community have a responsibility for students. Every student deserves the opportunities to be successful, whoever it is. We all have to work together to ensure everyone is successful."
When asked about the transition to being a superintendent in Watertown, she described it as "challenging and exciting."
She said her biggest goal for right now is to make the most successful transition possible. She said she wants to learn everything about her students.
For the parents, she wants them to be confident in the schools that they are sending their kids to every day. She believes it is important that the people outside of the school community can see the great things being done. She wants the community to be more involved with the schools, saying, "I want to improve communication and promotion of the great things we do within our schools."  
"
Dr. Galdston aspires to breaking down the barriers that separate us."
Being that Dr. Galdston is the outsider that's looking in, her first step to improve Watertown's public schools is to find what needs to be improved.
By November she thinks she will have a sense of what she would like to complete over the next couple years.
She said if students have any ideas about changing something in school, they can contact her without being shy because she likes when students are sharing their ideas with her.
However, she did have some ideas.
Dr. Galdston knows she wants Watertown students to be engaged in their classes and be interested in what they are learning. She said she wants every student to have as successful and smooth a transition as possible when entering a new grade or new school in Watertown.
Additionally, she wants to ensure that, "Elementary school is a common experience academically."
She wants the three elementary schools of Watertown to make sure they are teaching the same content, so when the students get to middle school, every student will be at the same level.
By listening to Dr. Galdston speak, anyone can see that she is very passionate about anti-bullying and promoting positive interactions among the students.
She said she also wants to teach everyone — especially students — to treat everyone with respect. She wants to teach students and even teachers to respectfully disagree with one another without bullying. She feels that we need to raise awareness, and to take care of the victim, while also treating the aggressor.
"
The problem is not eliminating the social conduct, but also having people not be distracting"
— Dr. DEANNE GALDSTON on dress codes
Dr. Galdston said she would like to start an anti-bullying program that is based off the program that is running in the Billerica schools.
She has a great view on helping defeat racism and other problems in society. Dr. Galdston aspires to breaking down the barriers that separate us.
She was asked how she plans on mending differences among students related to gender identity, race, etc., and to make sure no one is excluded or discriminated. She said it was an "ongoing, everyday thing."
"Is what we are presenting biased? Trying to make sure that it isn't so, help break down those barriers. How do we make sure we are appreciating other people's differences?"
She's aware that the dress code is a recurring problem in the Watertown schools. It is considered more strict for girls than boys, and that's why many girls complain about it.
"The great debate of schools is between being academic and being very social," she said. "The problem is not eliminating the social conduct, but also having people not be distracting. Sometimes you need a dress code to navigate through fashion."
What about fidget spinners? For those who don't know, fidget spinners are a trend of toys used to help some students focus. But the problem is that more students are getting distracted by them. In some classes and clusters at Watertown Middle School, students need to ask permission to use them.
Dr. Galdston believes they are loud, but they do help.
"I think they're great," she said. "All of my kids have them and although they're annoying to adults, it actually helps kids focus in school.
"The distracting energy goes to the fidget spinner and that is how it helps kids focus."
She was asked if they should be allowed in school. She wishes for something better that can be used for fidgeters.
"I think that they should be allowed, but if your teacher finds it distracting or annoying, you should be respectful to that opinion and not use it."
She likes the fidget spinners, but the sound of them is just annoying to her.
"All I hear in the back of my car is the sound of fidget spinners," she said.
(This story was reported and written by Alex Thuene, Audrey Garland, Declan Gallagher, Emily Azevedo  Emma Forde Ennya Papastoitsis, Esther Mendez, Irene Kandilas, Jordan Hoover, Lara Cordeiro, Mahera Ahmed, Niamh Murphy, Sabreena Shah, Sam Cerqueira, Sean Loughran, and Suren Mkrtchyan of the Watertown Splash.)
–June 22, 2017–