Watertown Middle School kicks off annual Pennies for Patients drive
Family Skate Night, Rummage Sale, Walk-a-Thon highlight fund-raising events to benefit Leukemia and Lymphoma Society
"I think Pennies for Patients is an awesome series of events," Chris McDermott said.
McDermott is a Cluster 2 world geography teacher at Watertown Middle School.
Pennies for Patients is an annual fund-raiser with many events for the Leukemia and Lymphoma Society, which helps fight blood cancer in children.
Last year, the drive raised $35,955.87, the fifth-highest amount in the country. This year's drive began March 1 and ends March 26. Mr. McDermott's goal for his homeroom is to raise $450.
Events inside WMS include the Penny Challenge (March 2), Nickel Challenge (March 6), Dime Challenge (March 8), Quarter Challenge (March 9), Dodgeball Tournament (March 13), and the P4P Dance (March 16).
Some of the events everyone can participate in include Movie Night (March 7), Family Skate Night (March 8), Rummage Sale (March 10), Teacher-Student Basketball Bame (March 22), Karaoke Challenge (March 23), and Walk-a-Lap-a-Thon Extravaganza (March 26).
Ellen Fitanides, a seventh-grade English teacher in Cluster 3, is helping run Family Skate Date on March 8 from 6-8 p.m. at John A. Ryan Arena. Skates are available for rent, and there will be food,snack, goodies for sale. There will be discounts for families for four or more.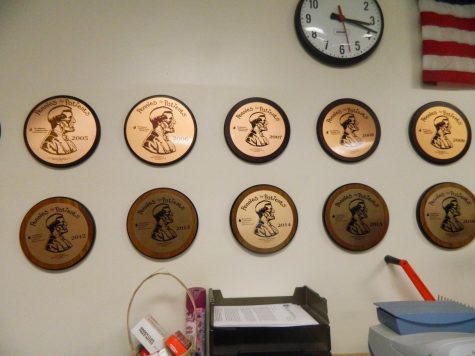 "My 8-year-old daughter loves to go to the arena for Family Skate night, so I'm bringing her with me," she said.
During the week WMS had a kickoff assembly for Pennies for Patients. WMS students heard from two current Watertown High students who had blood cancer, and two people from the Leukemia and Lymphoma Society, who said how generous the Watertown community has been over the years.
"Our community thrives on each other's kindness," said WMS teacher Andrew Allegro. "Pennies for Patients is another example of how Watertown residents, new and old, contribute to those who are in need."
(To donate or for more information, please contact Andrew Allegro ([email protected]) or Chris McDermott ( [email protected]).
–March 1, 2018–