New school nurse Michelle Laracy puts her best face forward
Watertown Middle School gets to know the UMass graduate who enjoys makeup, Halloween, and cats
From Halloween to weddings, Michelle Laracy is a makeup master. A seemingly normal school nurse in the day, she is a makeup Ninja by night. Her sidekick, a fat cat that goes by the name of Crinkle, who was a rescued stray.
Michelle Laracy, R.N. is the school nurse for Watertown Middle School. She grew up in Andover, went to UMass Amherst, and lives in Cambridge. Crinkle is her cat. The original name was Stanford, but she changed name because his ear was crinkled.
She loves cats. "I'm a crazy cat lady," she said.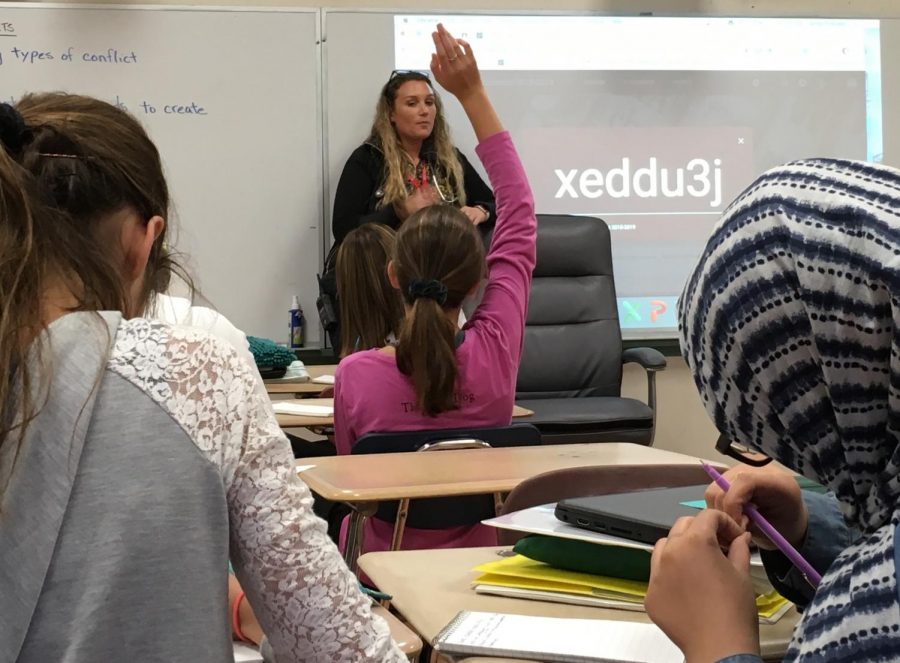 Since she was 16 she has scooped ice cream during the summer at Mad Maggie's in Andover, but her favorite food is plain Cheerios with no milk.
She has also worked as a nurse at camp at Wellesley College, at a school in Lowell, and at the Hosmer Elementary preschool in Watertown. Melissa, her younger sister, is a pharmacist.
Ms. Laracy has spent 4½ years working in schools. She filled in last year when the nurse left, so this is her first full year at WMS.
When asked why she went into nursing, she said, "I wanted to help people."
When asked how she deals with blood, sickness, and injuries, she said, "Some people have the stomach for it, some don't."
She said there's no cough drops in the nurse's office, so WMS students should bring their own.
"
Some people have the stomach for (nursing and medicine), some don't.
— MICHELLE LARACY, new nurse at Watertown Middle School
The nurse's office decorated with fall decorations and smells like pumpkins because she said she loves fall. Halloween is her favorite holiday. She said she won costume contests the last two years. She said she is going to be a White Walker this year.
Ms. Laracy does makeup for weddings as a side job. Her favorite makeup brands are Tarte, Milani, and Giorgio Armani.
She said she went into makeup because she wanted to cover up her pimples and then friends wanted her to do it to them. She said she learned how to apply makeup by doing it for fun and watching YouTube videos. Her favorite YouTubers are James Charles and Jaclyn Hill.
Ms. Laracy did the makeup for "The Wizard of Oz" at WMS last year. She said she likes doing makeup on herself more than on other people.
"I know my face better than other people's," she said.
She said she loves "Stranger Things," hates "To All the Boys I've Loved Before," and that her favorite musical is "Cats."
She went on the eighth-grade trip to Washington, D.C., last year and wants to go again this year.
"The best part of my job is helping kids," she said, "but the worst part is getting sick more than other teachers."
(This story was reported and written by Aislin Devaney, Allison Fijux, Anika Ziobro, Athena Ahmad, Bridget Donohue, Caitlyn Ramshaw, Catherine Fleming, Gabriela Bondaryk, Julianne Sabino, Lalita Sokhamkaew, Liam Lawn, Nina Paquette, Noor Dia, Rohan Mannan, Teagan Janis, Thandiwe Baker, and Tommy Dicker of the Watertown Splash.)
–Oct. 5, 2018–