Pennies for Patients events make for a rich experience
Pennies for Patients is an important and big event at Watertown Middle School. Everyone cooperates to help find a cure for blood cancer. 
During Pennies for Patients, WMS had many events and fund-raisers taking place. All the money being raised goes to the Leukemia and Lymphoma Society. One event that helped raise money was Skate Night. The event took place at John A. Ryan Arena on March 18 at 6 p.m. The event was run by Ellen Fitanides, who is a humanities teacher at Cluster 3. It cost $3 per person and $10 for a family of four or more people.
"This is something fun for family and siblings and getting exercise," she said.
Ms. Fitanides reported that Skate Night had its largest crowd ever — and rink even ran out of some skate sizes — and "made $875 between entrance fees and snacks."
Another event that has a big impact on Pennies for Patients was the student-faculty basketball game on March 16. It cost $3 for a student and $5 for an adult, and there was food and raffles being sold.
Brian Donato chooses to run this event in honor of Peter Clough, a WMS teacher who died of lymphoma.
Mr. Donato describes said Mr. Clough had enjoyed watching the student-faculty basketball games and that he was an "athlete himself."
Another successful event was the Walk-a-lap- athon on March 19 at Victory Field. According to Ms. Evans, 68 students walked, the most ever. They walked a total of 1,438 laps — that's 359.5 miles!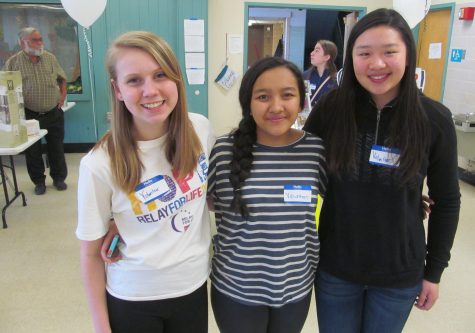 Other events included:
* Trivia Night, March 10, after school in the WMS cafeteria;
* Rummage Sale, March 5, in the cafeteria;
* Karaoke Assembly, March 18, at 7:45 a.m. in the WMS auditorium;
* Dodgeball, after school in the lower gym;
* Knockout Challenges, at 7:45 a.m. in the upper gym;
* Carnivals: March 1, 3, 4, 8, 10, and 11, at 7:45 a.m. in the cafeteria;
* Beard Unveiling, March 15, at 7:45 a.m.;
* Pennies for Patients dance, April 1, at 7 p.m. in the cafeteria.
Last year, Watertown Middle School raised $34,578.15, which made WMS the highest-ranked school in the region for the 12th year in a row — and the fourth-highest school in the country!
Remember, the money goes to the researchers to find a cure for this cancer. It is good to participate in an event for a good cause!
(For information about the WMS Pennies for Patients drive or to donate, please contact Eleanor Donato at [email protected])
–April 6, 2016–